These were by FAR one of my all time favorite recipes! My kids licked-yes licked- their plates clean and my hubby ate 4 of them! I on the other won't tell you how many I ate. :) Remember I'm on a diet and I need to watch my portions? Well that flew out the window once I tasted these. Holy moly these were delish! And super simple to make which made it even more one of my favs. Okay seriously you have to try them. Plus it serves 8. Or if you're like my family, we ate them all and we were only 4. Ooops. :)
Here's what you need:
-4 med. zucchini
-1 lb. sausage (mine was sage flavored)
-1 small onion, chopped
-1 clove garlic, minced
-1 c. bread crumbs, seasoned (mine were italian)
-1/2 c. + 2 tbs. parmesan cheese
-1 egg, beaten
-1/4 tsp. salt
-1/2 c. water
Directions:
-Cut zucchini lengthwise, and scoop the pulp out. Like so.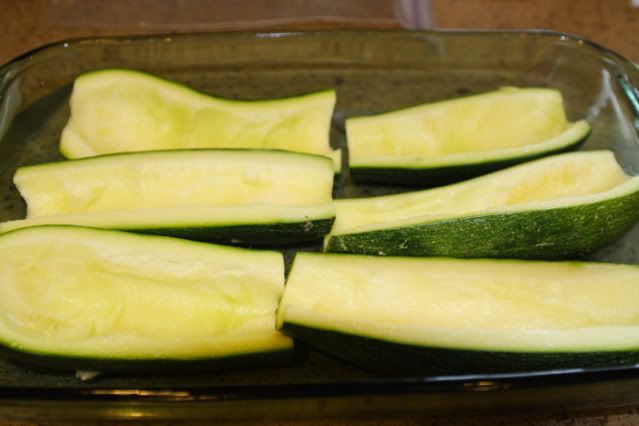 - Chop the pulp up.
-Brown the sausage, add the onion, garlic & the pulp. Saute it for 5 min. Then remove from the heat.
-Add the bread crumbs & 1/2 c. parmesan & the egg. Mix it well.
It should look like this at this point.
-Fill the zucchini boat shells. Then sprinkle the 2 tbs. of parmesan cheese over the filled zucchini boats. Put the shells in a baking sheet. And pour the 1/2 c. water into the bottom of the baking sheet. Like so.
-Bake it at 350 for 15 min. Uncover them and bake them another 15 min.
-Scarf them up as fast as possible before anyone else can get their hands on them! :)